At Inkerman London, we take pride in being a socially responsible company. Giving back to communities and causes both locally and worldwide is something we not only feel compelled to do - it's something we want to do. As a luxury corporate gifting company, embedded into our corporate identity is the importance of acknowledgment, saying thanks, and giving back. In the 22 years since launching the company in 1996, we have supported numerous charities and trusts. Both our in-house and client relationships are at the very core of how we operate. Therefore we support causes and charities that matter the most to our team members and clients. Throughout the years we have worked with many charities. Some that we currently support are: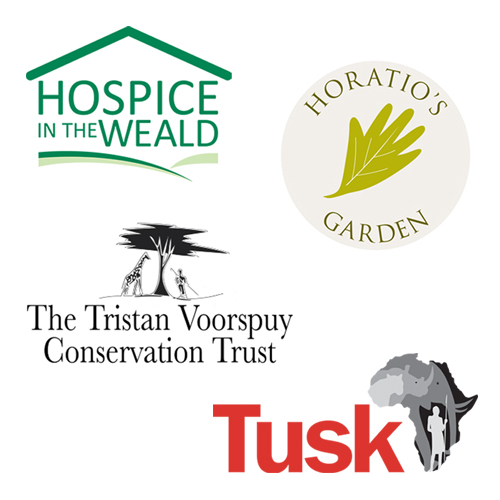 Tusk Trust - supporting forward-thinking and successful conservation intervention in Africa.
Spinal Injuries Association - leading national user-led spinal cord injuries charity that is helping all those affected by spinal cord injury live fulfilled lives.
Horatio's Garden - creates and lovingly cares for beautiful, accessible gardens in NHS spinal injury centres.
The Bob Champion Cancer Trust - funding male cancer research at the Institute of Cancer Research.
Breast Cancer Haven - offers free support, information and complementary therapies to anyone affected emotionally or physically by breast cancer and its associated treatments.
The Tristan Voorspuy Conservation Trust - aiming to effectively and efficiently promote a sustainable equilibrium between the land, animals and people in Kenya.
Friends of Sussex Hospices - support the running costs of the 12 hospice care providers serving the adults and children in Sussex.
Hospice in the Weald - provides free care to patients with a terminal illness, their families and carers in West Kent and Northern East Sussex. We also support charitable events. Anything from a school raffle through to a fundraising ball or event: the UK Sponsorship Awards, The South of England International Horse Trials, The Silk Series, the Telegraph Business Awards.
Why Companies Should Support Charities
The facts speak for themselves and charitable giving is increasingly on the rise in the UK with the majority of the population having have donated in the past year. We believe that companies have a responsibility to be involved in charitable giving, too. By supporting valuable causes, companies have the opportunity to strengthen their corporate identity both in their communities and in the workplace itself. An ethical and trustworthy approach speaks volumes. Taking part in charitable events is also an excellent networking opportunity and can effectively widen your company's reach.
Join us in making the world a better place!